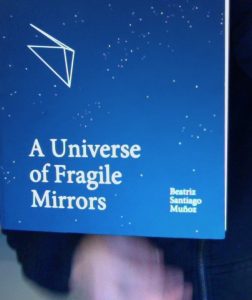 In "Ecologies of Practices in a Post-Military Cinema," an essay for the exhibition catalog, I draw on my research with artists in Puerto Rico working internationally. Here, I discuss the relationship between walking practices in post-military landscapes and the video art of Beatriz Santiago Muñoz (BSM).
For several years, I participated in "walking seminars" (and hope to do so again) with Santiago Muñoz and artists, students, and many other makers, farmers, and activists.
In this essay (published in English and Spanish), I think about the ongoing, in-process creations that BSM fuses into video but that are not limited to the medium. In the activities of walking and art-making, a process of worlding (a term I borrow from Marisol de la Cadena) emerges. In this worlding, learning, making, and translating into art are intermixed beyond the point of being separable again — new worlds are created within the husk of the expired colony.
I also took this writing as a chance to think more deeply about the politics of walking and about the methodology of sensing through the activation of space—an activity that I argue is productive of new modes of life. There's a lot more to explain, and the essay itself creates more questions I want to keep thinking about, but anyway, I'll post a PDF of the essay after the exhibition closes later this year.
The catalog is a gorgeous publication in its own right, designed by Olga Casellas / Tiguere studio, and includes writings by the artist and curators. It can be ordered here. My huge thanks to Bea for inviting me to work on this project and asking me to join the walking seminars; and thanks to: María Elena Ortiz, the exhibition curator, who provided excellent feedback on the essay, and she also supervised copy edits and translation by Cherry Pickman into Spanish. Thank you!