On the human remains of Luis Gongora:
But Grant is determined to tracked Gongora's family members so that his body can be released from the morgue.

The rituals we use to mark the end of a life seemed far out of reach for Gongora's friends. The people who knew him best have no legal right to claim his body. Even if they could, they have no money to pay for his burial.

A priest from the neighborhood has offered to set up a fundraiser, and Grant said she hopes that will make the difference.

"People won't give money to us because they'll think we'll just steal it," she said. "We're not like that. It would mean a lot to me if he had a proper memorial."  – The Guardian (emphasis added)
Worth repeating again that the San Francisco police have their own —publicly financed— place to memorialize their own who are "killed in the line of duty" (while Gongora's friends struggle to find some way to record his life).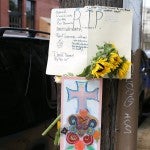 The circumstance of  being unhoused—and dead—brings about another series of consequences that remain rather unimaginable for anyone who hasn't experienced homelessness— namely the spatial question about how death itself can be recorded and remembered when someone is homeless; how social exclusion extends into the afterspaces of death and grief, and what such effects produce in terms of social reproduction. The absence of a space of mourning is not merely an incidental, tragic outcome of poverty. It instead seems to be related with how police violence is forgettable.
That is to say, when San Francisco's mayor, Ed Lee, alleges to be handling two simultaneous crises – (1) the use of police force that systematically just so happens to lead to these kinds of tragic outcomes, and (2) the proliferation of homeless camps in the booming city – it is precisely in the elusive spaces of grief where these two issues clearly come to be tied together. But the mayor and others would prefer them to have them remain apart by evicting grief itself: "I will be ordering the Shotwell camp to be taken down and for it not to come back," said Lee.